In Feng Shui, Mandarin ducks is a pair of ducks – usually figurines – kept in a home to enhance and attract love. They are also known as love ducks. In real life too Mandarin Ducks are one partner ducks. Once they get separated, they won't be able to live for a long time. They become lonely and keep waiting for their partner to come back till death does them apart.
In Feng Shui they're of the best ways – or tool – that symbolizes (attracts & enhances) love and passion amongst couples.
Now, that doesn't means that Mandarin Ducks are supposed to be kept – at home – by couples only. Individuals, who're looking for a perfect life partner, soul mate or want to attract his/her Mr. Right or Dream Girl can also keep a pair of Mandarin Ducks.
More on attracting the right love and life partner @ Feng Shui to Attract Love
But, it's not just that you can place a pair of Mandarin Ducks in your home and they'll start to attract love and passion in to your life. You need to make sure that they (the ducks) are placed as per rules of Feng Shui. The placement – or correct placement – of Mandarin Ducks is discussed in detail in the next section of the article; so just read on!
Ah, one more thing, I forgot to mention.
If you're married and having some "tough time" with your life partner the keeping a pair of Mandarin Ducks will help resolve all issues.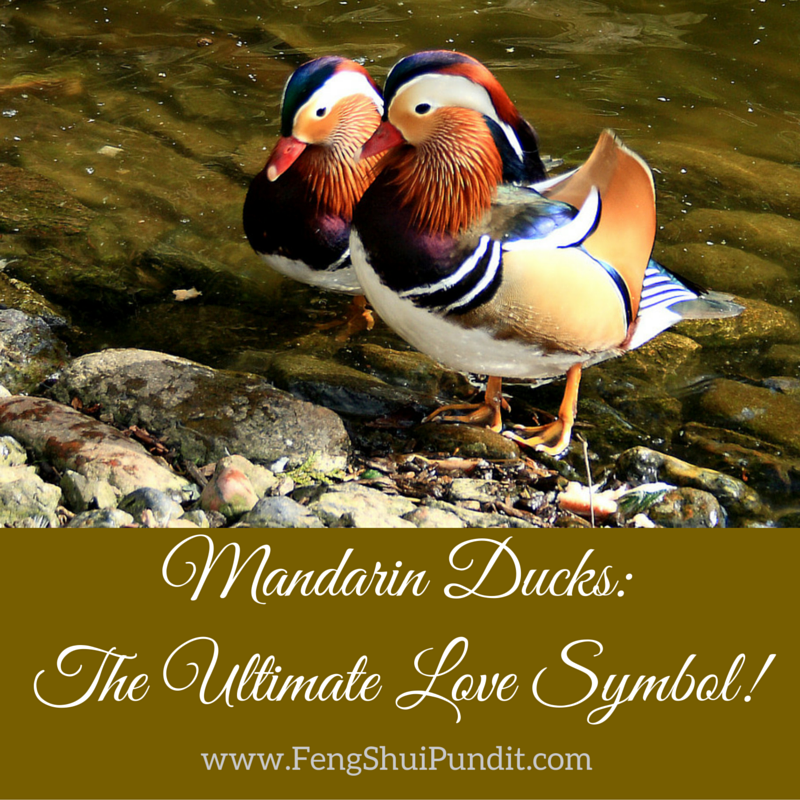 What's The Best Placement for Mandarin Ducks?
Now, you might know, in feng shui, placement plays a very crucial role and Mandarin Ducks aren't an exception. They should – always – be placed as per rules of Feng Shui.
Here're Feng Shui rules for Mandarin Duck's placement:
Mandarin Ducks Placement – What to Follow (7 Tips)
Keep them in pair.
They must face each other.
Keep them in SW of your home or in your love area.
Bedroom is a good place to keep them.

If you're single: then keep them on your side table.
If you're married: then husband's side is best

You can place them in living room too!
Place the ducks in clean, fresh & well lit area.
If one of the ducks gets broken, then get a new pair.
Mandarin ducks can be either figurines or paintings.
Mandarin Ducks Placement – What to Avoid (4 Tips)
Never separate the pair.
Don't keep broken ducks.
No clutter nearby.
No darkness near the pair.
Well, that's all there is to when it comes to placement of mandarin ducks in a home.
Now, apart from placement, the type of material used for making a Mandarin Duck pair plays a critical role in love attraction. Type of materials topic is covered in the next section of this article, so, just read on!
What's the best material of Mandarin Ducks to buy?
With the number of Mandarin Duck manufacturers increasing day by day, the materials used for making the duck are also changing.
If you're planning to keep Mandarin Duck in the form of painting then you need not fret about the type of materials used. However, if you're thinking to keep Mandarin Duck figurine then you need to be absolutely sure about the materials used for manufacturing the ducks.
Mandarin ducks comes in many materials such as lead crystal, jade, brass, rose quartz etc.
Out of these, the rose quartz ducks are very prominent. Rose quartz emits love energy and Mandarin ducks made of rose quartz tend to double-up their affect bringing additional love energy. Hence, it's best to go for rose quartz Mandarin Ducks.
Where You Can Buy Mandarin Ducks From?
There're a lot of places where Mandarin ducks are available for sale.
However, below are some – really good – online vendors you can buy Mandarin ducks from:
I sincerely hope that you'd follow above mentioned Mandarin Ducks Feng Shui tips and will be benefited by it.
PS: Since the purpose of placing Mandarin ducks is to attract love, I'd suggest you to read 2 more articles related to love & romance; below are their links:
I hope that you liked the above information on Feng Shui Mandarin Ducks.
If you did then please share the same!