A bedroom – without a doubt – is one of the most private areas of a home. It's a room that only a selected few have access to; furthermore, having a feng shui bedroom is vital and that's because unlike some other areas of home, a bedroom serves two – essential – purposes.
The first purpose of a bedroom is to provide you with the most relaxing and comfortable sleep so that you're able to efficiently manage day to day tasks and responsibilities.
The second purpose of a bedroom is to provide "that privacy" for romantic and sensual pleasures. However, mostly, the second function is performed first and the former one later 😉
Now, since a bedroom serves dual purpose, we've divided this article in two major sections. This'll ensure that you're able to grasp everything related to bedroom tips and nothing becomes overwhelming.
The 1st section of this article reveals to you the do's and don'ts of bedroom (which you can apply to all bedrooms). Make sure that you read all the tips and apply them.
The 2nd section of this article reveals the other set of bedroom tips; these tips will help to boost romance and sexual pleasure in your life (apply these to couple's bedroom only). Hence, if your life is lacking "that sexual drive or romance", then go ahead and apply these too.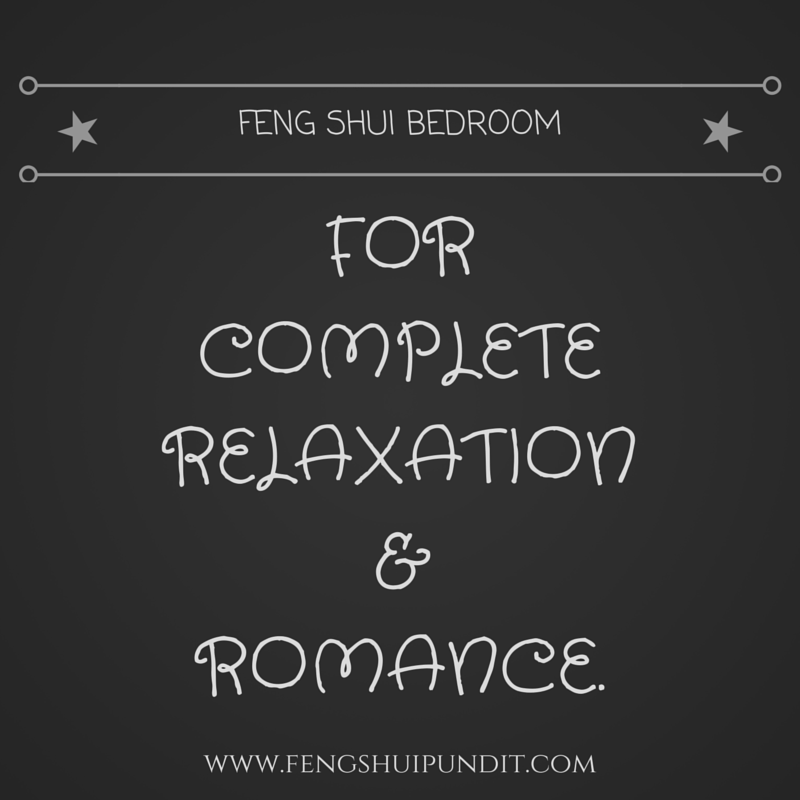 So, without any delay, let's begin the ride and have a look at all the do's and don'ts of feng shui bedroom.
Feng Shui Bedroom Guidelines (For Every Bedroom)
Bedroom Tips – 11 Things You MUST FOLLOW
Make sure that the bedroom is big, comfortable, pleasing, luxurious, sensuous, inviting and passionate.

Wooden beds

are the best; make sure that they are of high quality wood.
Buy a bed with a solid wooden headboard.
Place the bed's headboard against a wall.
Place the bed in such a way that you can see bedroom's entrance.
Make sure there's sufficient room on either side of bed to get in and get out.
Place identical lamps on either side of bed; this represents equality.
Hang paintings portraying happiness, enjoyment and good times.
Make sure that the bedroom receives ample sunlight and fresh air.
Use bedroom colors such as pink, brown, beige, yellow, cream, sand, lavender, tan, peach, violet, coral, bronze, butter-cream, raspberry, gold, rust, salmon, honey, burgundy, earthly red etc.
Make sure that you select high quality, natural and luxurious linen bed sheets, pillow covers, quilts etc.
Bedroom Tips – 16 Things You MUST AVOID
Avoid clutter in bedroom (in fact avoid it everywhere).
Avoid placing bed right in front of bedroom's door.
Never align a bed to any corner of the bedroom.
Avoid bed placement in front of bathroom door.
Avoid having AC vent directly behind the bed.
Never place bed under a beam or below a staircase.
Make sure there's no window behind the bed. If there's no choice then use double cell blinds for that window. Don't use mini blinds.
Avoid metal beds; also avoid beds with storage.
Don't buy bed having "vertical bars" design headboard.
Avoid sharp edges of dressing table or other furniture towards bed; as a remedy hang multifaceted crystal ball between bed and the furniture.
None of the mirrors must reflect your body while lying on bed. If there's no option then cover the mirror while lying on bed.
Avoid hanging items such as huge chandelier or anything heavy above the bed.
Electronic items such as TV, PC, laptops, cell phones etc. are a strict no in bedroom.
Avoid plants, fishes or other life form in bedroom.
Avoid work desk, exercise gear etc. in bedroom.
Never discuss work or a problem in bedroom.
Bedroom Tips That'll Boost Romantic Pleasures
5 Things To Follow
Freshen up the air by using an awesome air freshener or purifier.
Dress up in pink or light colored, sensuous, sheer clothing.
Use pink colored lights for getting in the mood; scented candles are even better.
Hang romantic photos such as kissing couple etc.
Use pink, light red, chocolate brown or skin color tones for bedroom walls.
5 Things To Avoid
Avoid hanging paintings of family members, friends etc. it reduces intimacy.
Get rid of all the things that remind you of your ex.
Avoid bright lights in the bedroom; dim lights are always sexy.
Avoid hanging religious pictures.
Avoid blue color in bedroom; it can kill sexual drive.
All the tips that are mentioned in "for every bedroom" section can be applied to bedrooms of unmarried people too.
Since you now know all the feng shui bedroom tips, you must take – that necessary – action and start applying these tips to your bedroom.
I believe – and trust – that you'll find lots of positive changes in your life once you've finished applying all the above mentioned bedroom tips.
Since you've read this far, I believe that you really liked the information on our website, hence, I request you to please share it with everyone you know.